I ended my freshman year at Appalachian State University feeling a little out of place. Sure, I had made great friends, but I was feeling like a small fish in a gigantic pond who could not find its way. Other than intramurals, I hadn't gotten involved in anything. I would go to class and back to my dorm room every day; I felt like there was something missing. Coming home that summer didn't help any. All of my high school best friends had nothing but good things to say about their first year of college. When they would ask how mine had gone, my answers seemed inadequate. I began to wonder if I had chosen the right school.
As the fall semester approached, my secret was out and all my friends at home knew the truth about my freshman year. They encouraged me to register for recruitment just as they had the year before. I knew nothing about sororities and never pictured myself joining one. Despite my reservations about Greek life, I took the plunge and signed up. With my nerves at an all time high, I went through recruitment. The days were long but the women I met through the process made it all worthwhile. I learned so much about sisterhood and the community that a sorority could provide. When bid day finally arrived, the nerves I had turned into butterflies. I ripped open my letter and jumped out of my seat; Alpha Phi had given me a bid. The rest is pretty much history.
I am now a senior at App State and cannot picture my time here without my sorority. Taking a risk and getting out of my comfort zone is the exact thing that led me to my best friends and some of my greatest memories. I finally found my place here; a community of women both in and outside of Alpha Phi. I am sure there are plenty of college students whose story is similar to mine. My best advice is to get out there and try something new. App State has so much to give, you simply have to be willing to receive it.




Rachel Jurney
Senior, marketing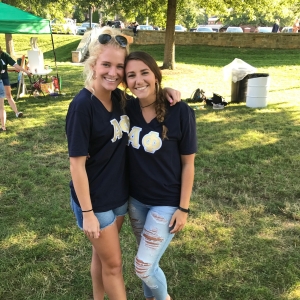 Tags: