If anyone knows me, they know how much I love to try new foods and check out local restaurants. As a sentimental senior, I have started to think about all the local spots I am going to miss once I graduate in December. Before making my exit, I want to express my opinion regarding some of the best places to eat in Boone, NC.
Comeback Shack
If you have never been to Comeback Shack, you truly are missing out. From burgers, to chicken tenders, to ahi tuna, to soft pretzels, this place truly has it all. Comeback Shack is a Boone staple and is family owned and operated. In addition to the incredible food, the atmosphere is fun and the staff is genuinely friendly. I personally recommend the fried green tomato styled burger, but possibilities for sandwich creation are endless.
Our Daily Bread
Gloomy days in Boone are easily cured with soup and sandwich from Our Daily Bread. This quaint restaurant is right on King Street, which makes lunch breaks between classes extremely convenient. This places takes comfort food to another level by using local ingredients from surrounding communities. My go-to is always the brie BLT with a side of the soup du jour, and it never disappoints.
Lost Province
Fast food pizza is great and all, but Lost Province pizza is well worth the extra money. Lost Province is also located in downtown Boone. They serve up wood fired pizzas and offer other appetizers and dishes that will have your mouth watering. Lost Province is a small, family owned establishment that prides itself on committing to the community, environment and overall culture of the restaurant. In addition, their food is made with local ingredients and is packed with flavor.
Although these are just a few suggestions, I encourage you to explore the food scene in Boone. Yes, we might be in a smaller town, but the food Boone has to offer is unlike any other!


Jennings Cool
Senior, public relations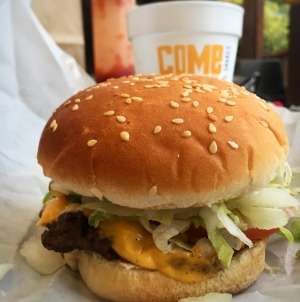 Tags: