Family Weekend is one of the most exciting events that occur every fall semester. It is a time when fall weather has begun and football season has taken off! As a college student, I do not get to see my family and friends back home very often. College creates a busy schedule for all students and we are constantly tasked with balancing school, work, and our social lives. Often times, students get homesick and miss their family members, which makes family weekend even more cherishable.
In my opinion, there is nothing better than showing your parents around campus, going to the football game, and having a great time. Family weekend is such a great experience overall! Every year, my family comes up to Boone and we tailgate in Raley Parking Lot. My parents always provide a ton of food and drinks for everyone. It is great to introduce all of my friends to my family. We usually tailgate right up until kickoff and we all go into the stadium together. Being able to spend some time with friends and family in Boone is a fantastic time!
Taking the opportunity to share some memories with your family at Appalachian is something that every student should do. Your parents care for your success and being able to share your college experiences with them is important. To your parents, you will always be their child and they will always want to know how you're doing in school. So, what better way to do that then to have them up for family weekend and show them what your experience at Appalachian is like. Take them to the football game, introduce them to friends, show them the best local restaurants (Comeback Shack is the best!), and have a fantastic time!
Hunter Burkitt
Junior, communication studies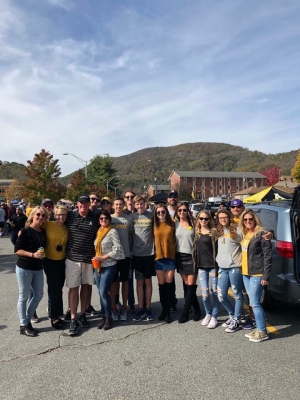 Tags: