When I was graduating high school and moving to college in 2015, I was in full crisis mode. Everything about my life was changing so quickly. Leaving my family, pets and hometown was difficult, however, nothing compared to parting from the close friendships I had made during my childhood. I was convinced that my friends were some of the most genuine, passionate and hilarious people on the planet and I would never build friendships like that in college. I had no idea how equally amazing the relationships that I would form in college would be.
I knew very few people from home that also attended Appalachian State University. On social media I would see a bunch of people from my high school all hanging out at their new schools and immediately I would feel left out. I had to constantly remind myself that I was better off starting fresh, because this was a great opportunity to meet new amazing people. My first few weeks of college consisted of putting myself out there. I went to various club meetings, freshman activities on campus and randomly introduced myself to people in order to make friends. While this was certainly out of my comfort zone, it paid off, because I met some awesome people along the way.
The best decision I made in college was going through sorority recruitment. My organization has given me people that I simply could not get by without. While Greek life is not for everyone, it has been a great experience for me and has enriched my time in college for many reasons. I was convinced that my friends in college would not compare to my friends from home, however, I could not have been more wrong. The friends that I have made in college have brought me so much in their own unique way.
When coming to college you should always remain positive while putting yourself out there to make new friends. All good things come with time. You may not make your best friends in the first week or even the first few months in college, but if you are patient and optimistic, you will be able to expand your circle and build friendships that will make college everything you hoped it would be.


Hannah Emerson
Senior, history, secondary education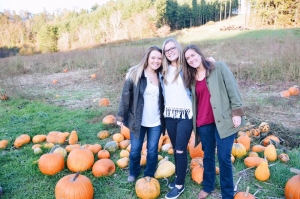 Tags: