El Salvador? Yes, you may have never heard of the country where I was born and raised. We are the smallest country in Latin America. Only 7 million people are lucky to have been born there. El Salvador is located right below Mexico and right next to Costa Rica. My mother and father are both Salvadorans, and I was lucky to be born there. I grew up in a town right outside San Salvador (the biggest city in the country). The town was called San Marcos. My childhood there was extremely fun; it was full of soccer games and carnivals to celebrate the homecoming of the town.
When I was 16 years old, my family decided to move to the United States, specifically to Chapel Hill, N.C. I attended middle school for only one semester and moved up to high school. For me, it was a big cultural change because of the tradition, food and especially language. I became really involved with the soccer team in high school and made some good friends whom I still keep in touch with. During my senior year, I applied to many schools; however, no school caught my attention like Appalachian State did. Touring the campus and seeing the mountains was just really nice. My whole life I've lived in big cities, so I thought coming to a small town like Boone was going to be great.
I'm now a junior at Appalachian State, and I have loved it so much. I think I made the best decision for my college career. People in Boone are extremely welcoming and accepting of all cultures and backgrounds. One of the things I love about App State and Boone is football season. The whole town comes together to support the mountaineers in every home game at The Rock.




Daniel Flores
Junior, finance & banking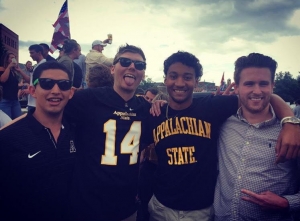 Tags: