Here I am: a senior in college and I am facing graduation in a month, yet I remember move-in day like it was yesterday. I know that even though it was four years ago, it seems impossible that these years went by so fast. It was August 15th, 2014, and I was headed up the mountain for the first time with my parents and my best friend to meet my new roommate and leave my past normalities behind. I was extremely excited, when I was thinking about the nerves that were coming along with the anticipation during the two hour drive; they were purely good nerves, and I couldn't wait to get up the mountain.
Upon arrival, I was greeted by so many smiling faces and the most efficient move-in process I could have imagined. The staff pretty much unloaded my car for me, got my stuff out and up to my room before I could even process what had happened. The amazing volunteers made the process enjoyable and stress-free.
When I finally got to the 9th floor of Gardner Hall, I saw all of the faces of the people I would be living with for the next year. Seeing the nervous excitement on their faces that was parallel to mine was completely refreshing.
Walking into my room for the first time was the most unreal experience. I had never met my roommate. After we met, we were just stuck in this tiny room with boxes full of our lives. After the chaos died down, we were left to organize our room and get to know each other in person. That sense of summer camp took about three days to go away when we had to go rent our textbooks and start our exploration of Boone.
This experience was impactful and will remain that way even four years down the road. I have such vivid memories and will never forget how I was feeling during that experience. I am forever grateful for my freshman year and all of the people that I met on that day.


Elizabeth Faile
Senior, marketing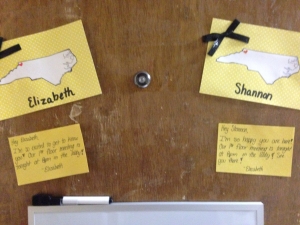 Tags: