The Boone community has a lot to offer in terms of fitness; however, a new trending fitness phenomenon has taken over in areas of the High Country. This phenomenon is a functional fitness program called CrossFit. CrossFit has not only taken over the Boone community, but it has captured the eyes of many fitness enthusiasts across the world.
Currently, we have a total of three CrossFit gyms in Boone: CrossFit Postal, CrossFit Boone and Seven Seals CrossFit. These three locations will post a workout or, in CrossFit terms, a workout of the day (WOD) daily. CrossFit incorporates powerlifting, metcons (a short workout that could include numerous movements), gymnastics and cardio movements to create a functional program.
Each location will post their WOD on an application downloaded from the Google Play Store or the App Store while others will post them on their websites. The workout each day will typically have a weightlifting component which can include cleans, snatches, squats, jerks, deadlift etc. After the 10-25 minute lifting portion , the class moves on to the metcon, which could be a quick sprint or a long 25-30 minute WOD.
I have thoroughly enjoyed CrossFit in Boone, and I encourage anyone looking for a new type of workout to try this fitness phenomenon!


Taylor Foulk
Senior, marketing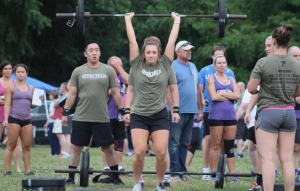 Tags: