LinkedIn is an incredible resource that every college student should be utilizing while enrolled in university and after graduation. Even as a freshmen in college, you can use LinkedIn to share your skills, achievements, and resume with the many connections you'll make which may even lead to a summer internship! Employers use LinkedIn now more than ever, so having a strong profile is becoming just as important as doing well in an interview. As much time as we millennials spend checking social media, LinkedIn needs to be top on our list as emerging professionals entering the job market.
A key point to remember is that LinkedIn is not the place where you share your fun weekend adventure photos; this is a platform where you build your network and give your connections an introduction of what you have to offer. As you meet new people within your field remember to connect with them, that goes for your professors as well! Keep in mind that your professors are professionals in the fields they teach and they have many connections as well. Connecting with your professors also serves as a professional communication line that you can utilize if ever you're in need of assistance, more than likely they're always willing to help!
So if you haven't done so already, go to the LinkedIn website and get started building your profile. Be sure to download the app and allow notifications on your mobile devices so that you know whenever you have made a new connection. Good luck and enjoy the process!


Cody Snow
Senior, advertising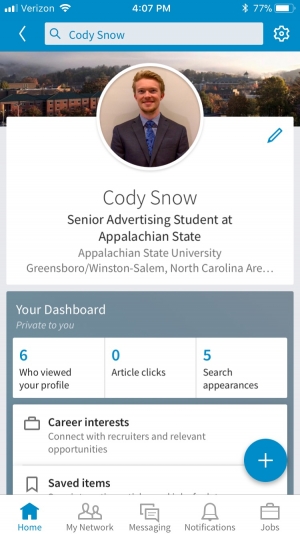 Tags: