If you have not already developed a craving for coffee by the time you arrive at Appalachian State, it is likely you will very soon. The fast-paced lifestyle of college encourages indulging yourself with caffeine because you are constantly on the move. Remaining stimulated throughout classes and study sessions can be somewhat challenging when you are running on little energy. Most adults come to realize their love for coffee during their college years as they need the extra boost that it provides, not to mention the delicious taste of it. I believe all educational institutions owe a lot to its friendly and energetic friend: coffee. Without it, we would all be exhausted.
At Appalachian State, coffee is not hard to come by. Thankfully, it can be easily purchased with your meal plan money by using your App Card in the dining halls and in the on-campus coffee shops. Crossroads is our coffee shop that is located in the Plemmons Student Union, which is extremely convenient for students. If you are looking for a relaxing and dimly lit place to study with a classic coffee shop vibe, you will consistently find yourself in Crossroads. The gourmet coffee served is top-notch and the student employees that work as your baristas always have a friendly smile. The Wired Scholar is located in the library and which makes for a quick pick-me-up before hitting the library the night before your crucial exam. The fast paced atmosphere gets you in an out in no time, but it is also great to stay and work on the many computers available. In addition, the student employees at the Wired Scholar have Spotify playlists that you will definitely want to follow.
College makes you realize that 24 hours in a day just isn't enough. Coffee becomes a necessity to most college students and helps them get a productive start to their day or crank out that last page of their paper that's due tomorrow. Luckily, Appalachian State has delicious coffee all over campus for you to enjoy. So please, come over to the dark side where you can drink a caramel latte or even a black coffee, whatever you choose. I hope to see you in the Wired Scholar or Crossroads very soon!


Hannah Emerson
Junior, history, secondary education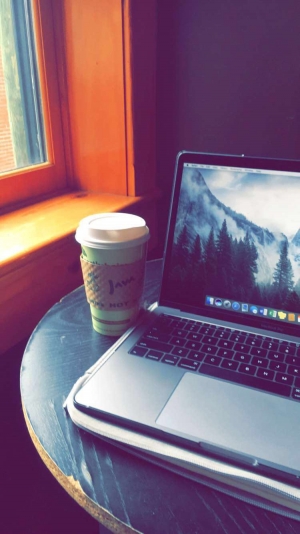 Tags: