When you enter college you have the opportunity to reach a whole new realm of clubs or extracurricular activities. My first year, I found it was hard to learn how to balance it all. I began to treat school like an 8 a.m. to 5 p.m. job, working hard throughout the day to get it all done. After 5 p.m. it became my time for fun activities and extracurriculars. Upon attending Appalachian State University I joined a sorority which soon began to take up a lot of my time. The weekly meetings, events, and socials became a large part of my semester.
In the last semester of my freshman year I started to take on more positions and activities within my sorority, ADPi. This made my plate a little bit fuller. Next, I decided to take on an executive position in my sorority. It turned out to be two of my hardest semesters at Appalachian. In my executive position, I attended weekly board meetings, new member meetings, on top of our normal chapter meeting.
Now, I serve on the governing council for all 10 sororities on campus. This added a lot more to my plate. However, I am able to balance governing council while taking my senior capstone and research class. These classes are a heavy workload, but taking breaks out of my studies to participate in my fun extracurricular activities is a good break from school work.


Taylor Foulk
Senior, marketing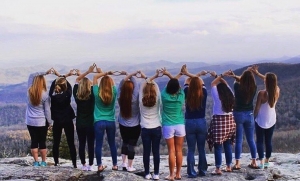 Tags: