During my time at Appalachian State, I have adopted several hobbies and interests in areas I could have never foreseen before coming to school here. One of my new hobbies tends to come with a terrifying yet exhilarating sensation: rock climbing. Boone has several climbing spots no matter the season. The public has endless access to rope climbing and boulder opportunities in the High Country. Below is a list of my favorite spots:
1. Grandmother Boulders
Out of all the bouldering spots I have been too in Boone, Grandmother certainly takes the cake. There are several boulder problems that satisfy all types of climbers, and the scenery is breathtaking. From technical, crimpy problems to problems with huge moves, Grandmother has it all.
2. Blowing Rock Boulders
Blowing Rock Boulders is just a short 15-minute drive from Appalachian State's campus. Most of the boulders are clustered together, which makes it easy to try out numerous climbs during the day. My favorite boulder in this field is the Mushroom Boulder. The climbs are challenging, but they have a technical twist that makes them fun.
3. The Dump
If bouldering is not your thing, the dump has a great concentration of sport routes. The routes are extremely easy to get to, and most of them only require quickdraws and a rope. The grades range from about 5.7 all the way to 5.13. From Learning to Clip to Unwritten Law, you are sure to find a route perfect for you.
Although there are several other places to climb in Boone, those three tend to be the most popular. My biggest advice for anyone come to Appalachian State would be to get outside. There are so many opportunities these mountains provide us with, and it is up to us to take advantage!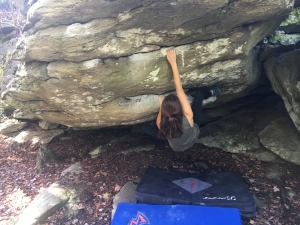 Tags: