Change. One word that dives deep and evokes our innermost thoughts and emotions. The idea of change and adjustment can be overwhelming and often consumes us with worry, insecurity and doubt. Before coming to college, I was terrified of change; I had adapted to a life in Charlotte, N.C. for 18 years and felt resistant to the upcoming stages I was going to face. However, I came to realize there was something remarkable about change.
New school. New friends. New classes. New teachers. New environment. Everything was new.
I soon was thrown into a world that was uncomfortable: a world that was unfamiliar and foreign to what I had previously known. However, there was something endearing about this new world. I had a clean slate, a fresh palette, a new beginning.
The idea of change crippled before I moved into my freshman dorm, but change was actually what my soul was craving. Being able to let go of the mundane life I had grown accustom to led me to new opportunities. I quickly adapted to my new life at App; I made new friends, declared my major, found new hobbies I would have never been introduced to in Charlotte, learned life skills, and developed a new sense of self.
Coming to App has broadened my horizons and has opened countless doors. Change can be scary, but it also can be the best thing for you. College is meant to push you outside of your comfort zones and mold you into a better version of yourself. I can truthfully say Appalachian State University did just that. Coming to this small, mountain town for my four-year college career has been the best choice I ever made. Yes, change is intimidating, but if you embrace it with an open mind, you will be astonished at what it can do.


Jennings Cool
Junior, public relations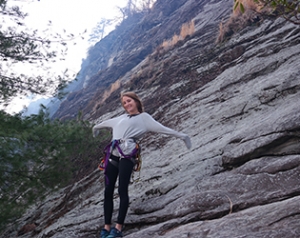 Tags: