Appalachian State's campus provides numerous resources and opportunities for students to engage in professional development by gaining internships and job opportunities. This past week, our campus advising and engagement offices have put together a program for students to communicate with potential employers. Not only employers from the local area attended this event, but companies also from all over the United States were represented.
The Career Fest is known as Appalachian's largest and most comprehensive career event. This event is designed to serve students and also alumni of all majors for networking with companies that vary from non-profits, healthcare groups and government institutions. It provides a time for open communication and introduction to valuable internship and job opportunities. The Walker College of Business also hosts their own networking event called Business Connections. During this event, companies will provide practice for formal interviews, free professional photos, presentation tips and networking opportunities.
With 50+ companies being represented at these events, it is a great opportunity for students and alumni to make connections and learn more about future possibilities.


Taylor Foulk
Junior, marketing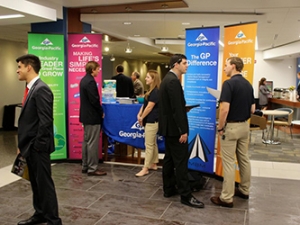 Tags: