Being a student at Appalachian State University in the winter can be hard at times. The winter weather sets in and most people tend to stay inside, but I highly encourage people to get outdoors and embrace the snow! An excellent way to do this is to go skiing or snowboarding! Luckily, since our university is located in the middle of the Blue Ridge Mountains, there are numerous amounts of ski resorts in the area! These would include: Appalachian Ski Mountain, Sugar Mountain Resort, and Beech Mountain Ski Resort!
In my opinion, Sugar Mountain is the best bang for your buck! This resort offers the largest amount of slopes, ranging from beginner to expert. This means that anyone can go ski or snowboard, despite your level of experience. Sugar Mountain also offers a huge lodge where you can take a break from skiing and grab bite to eat! The hot chocolate is amazing. Other than skiing and snowboarding, you can also go ice skating or snowshoeing. This is a plus because it provides a variety of activities. The downside to this resort is that it can get very crowded due to the vast size of the resort itself. It is a very popular resort, but don't let this intimidate you! It is still one of my favorite ski resorts in the area, and it is a twenty-five minute drive from Boone!
Another great ski resort Appalachian Ski Mountain. This is the closest resort to Boone and is only a ten or fifteen minute commute. This resort is about similar size to Sugar Mountain and they also offer night skiing! App Ski Mountain also offers a nice terrain park if your into doing some tricks/stunts! I definitely think that this terrain park is much more extensive compared to the one at Sugar Mountain. So keep this in mind if you enjoy terrain parks and want to do some tricks. This resort also offers ice skating if you want to take a break from skiing or snowboarding. The greatest benefit of this resort is location. You do not have to commute far and it saves a lot of time if you want to go skiing for an hour or two in between classes. Essentially, it is easier to fit winter sports into your busy school schedules, since it is closer.
The last resort that I will discuss is Beech Mountain. This is a smaller resort, which means a lot less crowds. This is a nice resort to go to if you on the weekends because a lot more people go to App Ski or Sugar Mountain. So, if you wish to ski in peace and not worry about the crowds, this is the ski resort for you! Beech Mountain is also the highest ski resort on the east coast! That's pretty cool! My favorite thing about this resort is the 5506' Sky Bar. For people 21 and over, this is the perfect place to take a break from skiing and relax! The views are incredible and you get a 360 degree view of the surrounding Blue Ridge Mountains. It really is spectacular!
Overall, these resorts are all fantastic options for students here at Appalachian. No matter what experience you have you can receive lessons and education on how to properly ski and snowboard! Another benefit is that you get student discounts on rentals and lift tickets at these resorts. Saving money is important as a college student and these discounts enable more people to get out and enjoy the winter weather! Even if skiing or snowboarding isn't your thing, you can always go snow tubing at Hawksnest! This is located in Seven Devils, NC and it is a ton of fun as well.
Hunter Burkitt
Junior, communication studies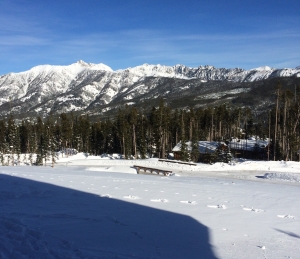 Tags: