One of the best attributes about the Boone area in my opinion is the Blue Ridge Parkway. This long stretch of national land is such a beautiful area. There are hundreds upon hundreds of trails, lookouts, and scenery to explore. One of my favorite things to do is to just drive on the Parkway and take my mind off of school. Getting lost and stopping at the lookouts, or going hiking is a great way to escape the everyday stresses of college.
By far, my favorite spot on the parkway is called Hunt Fish Falls. This area is in the Pisgah National Forest section of the parkway, so it takes quite a bit of driving to get there. In total it is about an hour and a half drive with about thirty minutes of hiking. It is an extraordinarily beautiful place to go when it is nice outside. During the summer months, you can swim in the large pools and river. There are also spots to go cliff jumping off of waterfalls. The scenery is amazing and there are large rocks everywhere that you can picnic on and have fun with friends. The fishing is also amazing and there are very large trout that can be caught in the river there. Though this is an all-day excursion, it is definitely a place I recommend people to check out.
Another one of my favorite parkway spots is Linville Gorge. This is also a longer drive, but it is so worth it. If you want to see huge waterfalls and swim in deeper water, this is the place to go! The largest waterfall has a forty-five foot drop, so if you're cliff jumping, be super careful! One of my favorite summer activities is to drive on the Parkway and go to Linville Gorge with some friends. It is easy to swim and hang out all day long at this beautiful spot. All in all, these are my two favorite Parkway destinations. Though it is more driving than usual, it is well worth it. Road-tripping on the Parkway with friends is one of my favorite things to do as an Appalachian State student and I highly recommend that everyone check out these awesome spots before they graduate!
Hunter Burkitt
Junior, communication studies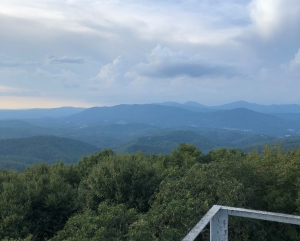 Tags: