Do you not like trees blocking the view of the mountains? Do you crave sitting on the edge of a rock to look out over what you call home? Want to find places where you can become one with the nature around you? Well, if so, you've come to the right place.
There are some great overviews right here in Boone, North Carolina, like the Grandview overlook. This overlook gives a great view of the sky and the blue ridge mountains without any trees blocking the view. You can park your car right in front of the overlook and enjoy the scenery from an air conditioned (or heated, depending on the season) vehicle. If you want to look at more than just mountains, another option here in Boone is Howard's Knob overlook. Located just a few miles down the road from Appalachian's campus, Howard's Knob overlook gives a great view of Appalachian State University in its entirety.
If you head a couple miles out of Boone to Blowing Rock, there are two beautiful overlooks that are kind of like the Grandview overlook here in town called Thunder Hill overlook and Yadkin Valley overlook. Both of these overlooks have incredible views of the mountains without being obstructed by trees.
Some of the more outdoorsy overlooks where there are rocky ledges and little forest strolls are located a few miles away from Boone in Linville, North Carolina. It's not a long drive at all and is definitely worth the gas. These include Beacon Heights overlook, Wiseman's View scenic overlook, Grandfather Mountain overlook, Rough Ridge overlook and Chestoa View parking area. If you don't want to drive all the way to Linville, then there's one rocky ledge here in Boone called Ravens Rock overlook which is a beautiful option as well!

Ellie Yinger
Freshman, political science - international comparitive politics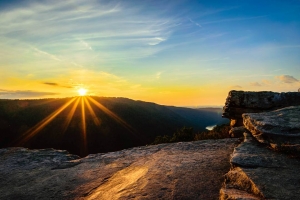 Tags: