Being in Boone has been the amazing because every weekend I get to go on a new adventure! I have always loved hiking, and would frequently visit many places around Charlotte such as Stone Mountain. Since Boone is basically known for its awesome hiking spots, I was super excited about going on different hikes every weekend. It's so nice to have the Blue Ridge Parkway right in your backyard. In addition, there are so many places to go; even if you've hiked a bunch of the trails, you will never run out of new views to see. No mountain view is the same; each view is unique and spectacular in its own rights.So far, my top three hiking trails are Elk Knob State Park, Howard's Knob, and Moses Cone Fire Tower.
The first hiking trail I want to talk about is Howard's Knob. This was my first hike in Boone, and it did not disappoint. At an elevation of 4,396 ft, this view is absolutely breathtaking! At the top, you can see all of Boone! It is not much of a hike since you can just drive up, park and walk a few steps to get to the view, but it is definitely worth the drive! Out of my top three, I would rank this one number 3 (with one being the best). Although it is not much of a hike, it still has a wonderful view!
Next on my list is Moses Cone Fire Tower. This hike is roughly 6 miles and is at an elevation of 4,573 ft. Usually on hikes, the view is the best part. However, for this hike, all of it was wonderful! The hiking part was never very strenuous and was a beautiful walk with some good views. Once you get to the end of the hiking trail, you can climb a few flights of stairs and find yourself at the top of a fire tower with some really awesome 360 degree views! Again, out of 3, I am going to rank this hike at number 2!
Last but not least, Elk Knob State Park; this hike was absolutely incredible! Although the hike was hard and tiring, the view at the end made it all worth it! This hike is roughly 4 miles and is one of the highest peaks at 5,520 ft. This hike, I have to stay, is difficult; the trail is mostly big boulders and can become very narrow at some parts. There are also two views at the top: the north side and the south side. I personally think the north side was the best! This hike is ranked number 1 because it was astonishing! I have never seen such a beautiful view! If you ever have a chance to go hiking, be sure to check this one out!




Justina Ruscio
Sophomore, management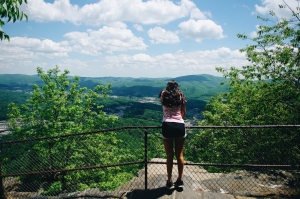 Tags: