Being a new student here at Appalachian State University, I have been looking all over for "Boonie" places to eat. As I was walking to the AppalCart bus stop in front of the Convocation Center, I found an amazing bakery and coffee shop: Stick Boy Bread Company. I'm going to be honest with you, when I first walked in, I thought it was just a place to purchase bread, but my sister assured me they sold coffee too. When I walked to the counter, I told the woman working it was my first time there, and she was more than enthused to show me how everything worked and what they had to offer.
As she described the selections to me, there was one that really stood out to me: the cinnamon roll with cream cheese icing. Yes, you heard that right – cream cheese icing! I almost screamed when she said it and actually jumped when she asked if it was the baked good I wanted to purchase. As she boxed it up for me, she told me it was definitely better heated than cold and to heat it for about 10 to 20 seconds so the icing is a little melted but not all the way.
My previous experience with cinnamon rolls usually came from the Cinnabon Bakery or from a can, which usually had the powdered sugar icing. The difference between those and Stick Boy's is the ones from Stick Boy are huge, and when heated, the actual cinnamon roll becomes soft and the cinnamon mixture melts and mixes with the cream cheese icing. I understand I probably sound a little too hyped up talking about my incredible cinnamon roll experience, but honestly, it truly was incredible. I highly encourage anyone who has not tried them to go get one before I buy them all!

Justina Ruscio
Sophomore, management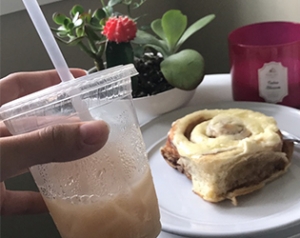 Tags: