The beloved Founder's Bell here at Appalachian State is well-known for its believed good-luck bearing secrets on final exam's, however, many don't know that it is not the only, nor even the first bell to be important to campus. The original Watauga Academy (built in 1899), the very first building on track to making the Appalachian State University we know today, housed a tower bell.
Tragically, the building burned down in 1946, destroying the entire building but… not the steel bell. In an attempt to restore the much needed space and resources (particularly brand new musical instruments for both the college and local high school) a new building for music and arts was constructed in the place of Watauga Academy, but in all the hubbub, the bell seemed to be forgotten.The bell's original use -- for class period changes -- was easily forgotten after the installation of an electric bell system in 1913 in the new building, then officially known as the "Appalachian Training School." Until it's restoration in 1956, the bell remained in storage, until after it caught the eye of Dean Spencer, who decided it could be useful in band and orchestra performances (and was intrigued by its unique history)!
The old Watauga Academy bell often gets confused with the Founder's Bell, located outside of Anne Belk Hall, but with a quick look at the two it is obvious that they are not at all the same. The Founder's Bell was originally located in a 1920's dining hall on the campus of the "Appalachian State Normal School" -- a different origin and different use from the o.g. Watauga Academy bell.
The historical importance of the Watauga Academy bell cannot be understated, as it is (to current knowledge) the only remaining artifact that survived the 1946 fire. And, other than the Dougherty house, which was a private building, no other part of the earliest university history or building remains. While the bell may be of no practical use, replaced musically by newer, more expensive bronze bells, it holds historical value to the valley. The historical value of the bell was recognized recently in 2018 by the office of Chancellor Everts, and a decision was made to move the bell to its now-residing administrative building, B.B. Dougherty.
For the full story and a more comprehensive history of the bell, visit: https://omeka.library.appstate.edu/watauga-academy-bell. Dr. Gary R. Boye, along with the help of many others, has unravelled the story and provided a detailed analysis of the Watauga Academy bell's history!

Carly Goodman
Sophomore, nursing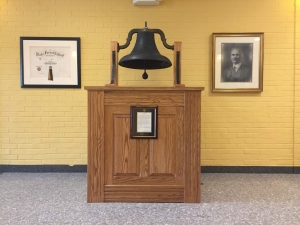 Tags: