Choosing the college your going to attend school for the next four years of your life is difficult. You have to think about where you will fit in, location, price, people and the alma mater you will represent forever. For me, the choice was tough, but I knew attending Appalachian State University was the right choice for me. It has been three years and I have never looked back or regretted one minute of my decision to become a Mountaineer.
Appalachian is not the biggest or the most well known school in the state, but it is the place I call home. There are endless opportunities for anyone who is considering studying at Appalachian. It's the perfect balance of being large enough to explore but small enough to not get lost.You have access to countless trails, breathtaking views, overlooks, plenty of waterfalls and swimming holes. We have some of the best academic opportunities in the state and such a diverse pool of students, faculty and locals.
The experience at Appalachian is like no other. You can go on a hike immediately after class or experience a beautiful snowfall in early November. Being a Mountaineer isn't just a label, it's a representation of the place I have called home for the last three years. Here are a list of things that have helped Appalachian become my home: being late for class, because I was hiking, experiencing Greek Life, learning the do's and don'ts of cafeteria food, tailgating all the way to the Rock and meeting lots of new people. This is a place to grow, learn and figure out who you are and who you want to be. ROLL 'NEERS!

Timothy Mills
Junior, accounting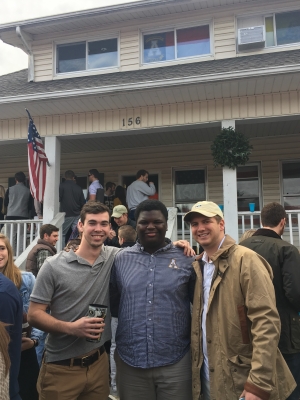 Tags: