Appalachian State University puts an emphasis on the importance of students getting involved in their community and making a difference in the place that we live. Students at Appalachian learn about the Boone community through their involvement on campus and even during classes. One amazing resource for students to utilize on campus is the ACT (Appalachian Community Together) Office as a way to get involved in the community and participate in service. The ACT Office serves as a way to connect students with the community and allow them to get involved in activities that will support the Boone area. One way the ACT Office does this specifically is through the Alternative Service Experience program.
Alternative Service Experiences (ASE) are described best as an alternative break. During Fall, Winter and Spring breaks, many students from Appalachian spend their time serving others domestically or internationally. Often times, ASE offers programs that stay in Boone, which is a great way to learn about the different community organizations that surround our campus. Each program that goes out has a member of faculty or staff, two peer leaders that plan the program and 11 Appalachian State students. Last year, I served as a peer leader on a spring break ASE that went to Atlanta, Georgia. The program's focus was on fighting the stigma of HIV/Aids in Atlanta. We worked with different community organizations that offer support to individuals emotionally, nutritionally and physically with HIV/Aids.
My experience leading my ASE was eye opening and meaningful. Having the opportunity to learn about a problem I knew virtually nothing about broadened my vision on poverty and the importance of health for individuals. Although at times this journey was challenging, I had the opportunity to make a difference and learn from those around me. The participants, my co-leader and staff members added so much to the reflective conversations we had each night that impacted my views on the world around me. I am so glad I decided to use the opportunity Appalachian provided to me through ASE; I was able to learn, grow and work with amazing organizations that do so much. Alternative Service Experiences are something every student at Appalachian should consider participating in!


Hannah Emerson
Senior, history, secondary education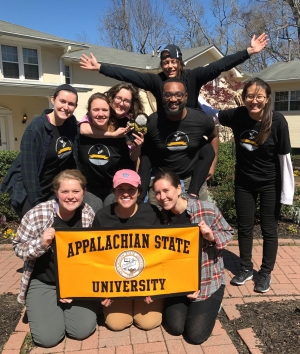 Tags: