Appalachian State has many clubs that cater to all kinds of people and interests, especially particular majors. As a communication-advertising major with a minor in sales, I became a member of the advertising club my first semester. It is a fantastic club with an executive board who is very devoted and enthusiastic about advertising.
The club meets at least once every month. The executive board is good at scheduling someone to speak to the club usually through a video chat. Our guests may be professionals in our field, alumni who can speak to us about life after graduation in their current careers, or maybe faculty from the career center who can help us with our resumes or constructing our LinkedIn profile. Our meetings usually last around an hour, and I always leave with insightful notes.
Last year we went on a few different tours for agencies in Charlotte and in Winston-Salem. These tours were very insightful and gave us a great perspective into the professional world of advertising. This spring, we are setting up a trip to New York City where we'll be able to tour a few very large agencies. If you are an advertising major or plan on going into this field, I highly recommend joining this club!


Cody Snow
Senior, advertising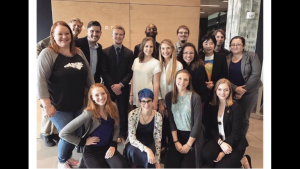 Tags: