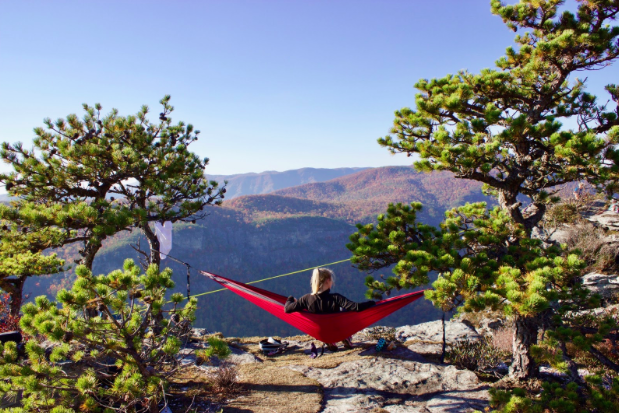 Appalachian State University is home to amazing people and endless opportunities. When I first arrived on campus last spring for a tour, I was introduced to a unique sport called "slacklining." My tour guide and I were standing by the bell outside of Anne Belk Hall, watching people try to balance and do crazy tricks while walking across a narrow nylon strap strung between the trees. I was in awe. One year later, I am now a proud App State student who happily spends any spare time walking the line and working on my slacklining skills. Nearly everyday, as I see the tour groups standing near the bell, I think of how far I've come as both a student and a slackliner, thanks to the awesome opportunities given to me by App.
Slacklining has now become a key component to my social life. As a busy full-time college student, studying has consumed much of my life. However, through slacklining, I have learned the importance of balance. I know that, in addition to school work, it's important for me to make time for the things that will keep me happy and centered. On top of classwork, papers, and studying for exams and quizzes, I make sure there is room in my schedule to go out on adventures with my new friends, including trips to Linville Gorge. I've even had a chance to hang and highline with local slackline gods, Zachary Standley and Nathaniel Flowers, whom first I saw outside of Belk when I visited as a prospective student.
Highlining, slackline's crazy cousin, is an exhilarating extreme sport, similar to rock climbing or alpine skiing. Essentially, highlining is the same as slacklining, however, instead of walking between trees a few feet off the ground, your line is suspended between two boulders or mountains, and you are anywhere from 75 to 400+ feet in the air. Balancing on a one-inch wide piece of webbing (line), protected by only a harness, and a prayer, is a one-of-a-kind feeling. I've met lots of interesting people who I share the same love for lining as I do and we try to inspire each other to continually challenge ourselves. I have yet to go, but they also set up "water lines" across water holes and ponds and fall into the water, instead of a harness or the ground; just another cool opportunity that mountain life affords at App.
App State is located in the perfect place for outdoor adventures. The wilderness is, in fact, right in our own backyard. In Boone, I am less than a 25 minute drive from breathtaking hikes with spectacular waterfalls, massive boulders to climb, and, of course, a ride along the unparalleled Blue Ridge Parkway. It is truly one of the most beautiful locations in the United States. I am excited to continue slacklining and seeking other adventures for the next four years here. I'm so glad that I came to App State and I'm proud to be a mountaineer!

Jared Mark
First-year, political science, pre-law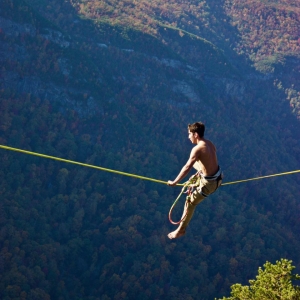 Tags: