The week all college students dread is finally upon us: finals week! Finals week is the week where all your classes have ended, and you have to learn a whole semester worth of material in 2-3 days before you have to regurgitate it back onto paper in test form. Ah yes, finals week is the most stressful time of the year, but I have compiled a list of 5 tips that should help you keep your cool during finals week and get out of the semester with your head above water.
1. Create a schedule
Staying on top of all your tests and projects for the end of the year is very important. I believe the best way to keep up is to get a calendar or notepad and write down all the important dates of your exams and projects. Also, it is important to set up time for yourself to study for each exam and give yourself at least two to three days to study for each exam.
2. Don't over study, don't over stress
Studying is important, yes, but over studying will make your brain exhausted and will have adverse effects. Don't stress yourself out. Make sure you take breaks during your study sessions; maybe watch a show on Netflix then get back into it. Listen to your body when it is too tired to retain anymore information. Relax and just breathe.
3. Stay healthy
There is nothing worse than preparing all week for exams and waking up with a cold on the day of. Staying well rested, eating well, and keeping hydrated will help to keep you from getting sick during finals week. Exercise is a great way to stay active and out of your room for a break. Take a walk, go to the gym, or ride a bike. Anyway you like to stay active will help!
4. Stay hydrated
I know I said this in the last tip but staying hydrated is very important. It's really easy to get into the swing of studying and lose track of time and not drink water or leave your room; however, staying hydrated will keep your mind alert, help with fatigue, get rid of headaches, and will improve your mood! So drink your water!!
5. Take time for you
I know in the hustle and bustle of exam week we all tend to neglect ourselves, but just remember to take some time out of your busy schedule for you time. Whether it be getting a massage, taking a bubble bath, doing a facial, listening to music, writing, drawing or cooking/baking, take time to practice self love!
Don't let the stress of exams overwhelm you – good luck!

Justina Ruscio
Sophomore, apparel design & merchandising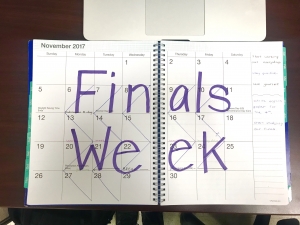 Tags: