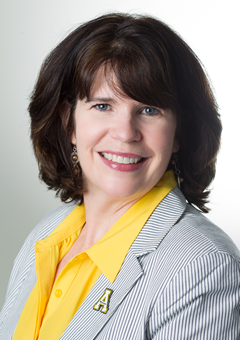 Associate Director of Admissions - Transfer
Greeting Message:
Greetings from Boone, North Carolina, the home of Appalachian State University. As you make that all important decision about college, please visit our University in the heart of the Blue Ridge Mountains. There is no better way to get to know a college, and it's so important that it "feels right"—after all, you'll spend several years of learning, growing and making memories that will help build a strong foundation for the rest of your life. When you walk the campus, you'll know which college is the right fit for you. You just might fall in love with Appalachian as I did on my first visit to the High Country.
In addition to serving as admissions transfer counselor, I also work with our prospective military students. Serving both our transfer population and military men and women is very meaningful to me. Appalachian is dedicated to providing the best possible service to all students, and I am here to help in any way.
Want to learn more?
Register to attend a Transfer Track event here on campus to see yourself as a student in Boone.
Ready to apply?
Appalachian is hosting a new series of events for students who are ready to submit their application for admission. Take a look at our APP Day events.
What Students Should Know About Appalachian:
The university serves the needs of transfer students by cultivating a sense of belonging through events that allow you to connect with other students, offering residential learning communities, connecting you to academic resources, and then supporting you in your progress toward graduation. As a current student, you will feel supported and connected on campus. As a proud alum, it is really great to see how the University has evolved in offering a variety of academic programs and services, while keeping a very special family atmosphere. I love that about App!
On-Campus Involvement:
Military Services Committee
Lutheran Student Association
Educational Background:
Appalachian State University - '87 B.S. Housing & Interiors