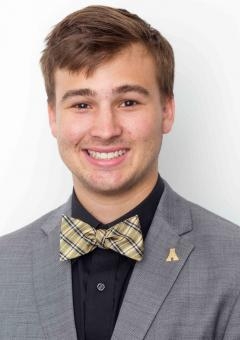 Associate Director of Admissions - Raleigh Recruitment
Greeting Message:
Hi, future Mountaineers!
My name is Conner Brannan and I am an admission counselor who is ready to answer all of your questions. I attended Appalachian, where I worked on campus, played intramural sports and took advantage of all the great outdoor experiences that we have here. From skiing to sunrise hikes, these are the reasons why I stuck around to continue to be a part of the Appalachian Community. Please be sure to check my travel schedule and see if I will be coming to your school and area. I would love to meet you and talk about what it takes to be a Mountaineer!
The best way to know more about Appalachian is to come visit our beautiful campus, so don't be afraid to hop in the car and drive up the mountain. I look forward to seeing you all apply and feel free to get in touch with me. Go App!
Scholarships specific to my territory
Seby Jones Scholarship for Wake County